2007-2012
Pulses trading and ETG Agro, processing operations started in Mumbai.
Operations began in East India with a new office set up in the city of Kolkata.
2013-2014
Pulses processing & pulse milling plant set up for Pigeon Peas (Arhar/Tur) in Vasad in the state of Gujarat, West India.
Another Pigeon Peas (Arhar/Tur) plant established in Khopoli, in the state of Maharashtra.
ETG India crossed Five Lakh Metric Tonne mark in the physical handling of Agro-commodities through the company's vast supply network.
ETG became the world's largest integrated processing and marketing company in the stream of pulses.
ETG introduced large-scale modern silo storage for pulses at the Khopoli plant.
2015-2018
ETG commissioned largest pulse processing plant at Kolkata to cater 10 eastern states.
ETG Global group took complete supervisory control of India operations.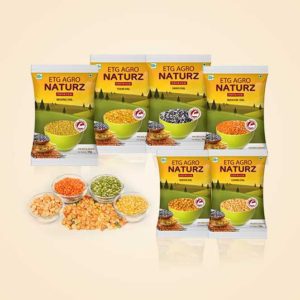 2019-2022
ETG India entered in retail consumer segment with – ETG Agro Naturz.
3P processing centres were activated pan-India.
Launched Exchange-traded commodities vertical in India under KCIPL.
Nuts processing plants focusing Almonds, Walnuts and Peanuts set in Kheda, India.
Coffee processing plant set in Coorg, India under KCIPL.