BESAN KI MASALA ROTI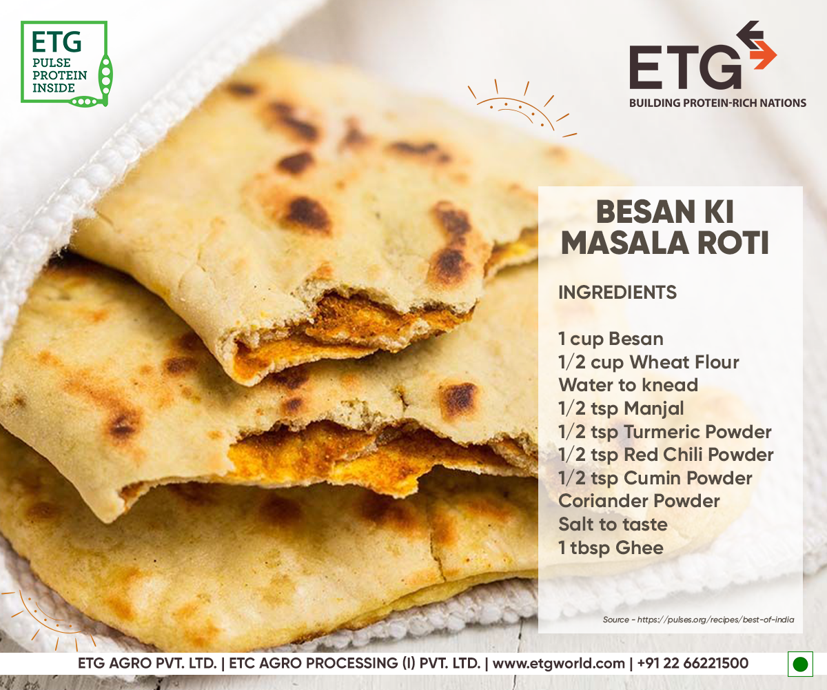 Cooking Method
Mix all the ingredients including besan mentioned for the masala filling. Add a little water if the paste is very thick.
Add the flour in a mixing bowl and sprinkle water to knead it into a dough. Rest it for about 10-15 minutes.
Then divide the dough into 8-9 portions. Take one and roll it out by dusting it with a minimum of flour, as needed.
Apply masala filling to the centre and spread it out a little. Then fold it in half. Fold it again from one side to another to for a triangle. Refer to the stepwise photo.
Now roll the folded triangle again either retaining the same shape or shaping it into a circle.
Heat the griddle (Tawa). Once it is hot, place this on the tawa. In 10-15 seconds, flip it. Apply some ghee on top and then flip it again and apply ghee on the other side.
Now cook both sides until brown spots appear and it begins to slightly puff.
DOSAKAL PAPPU(CUCUMBER DAL)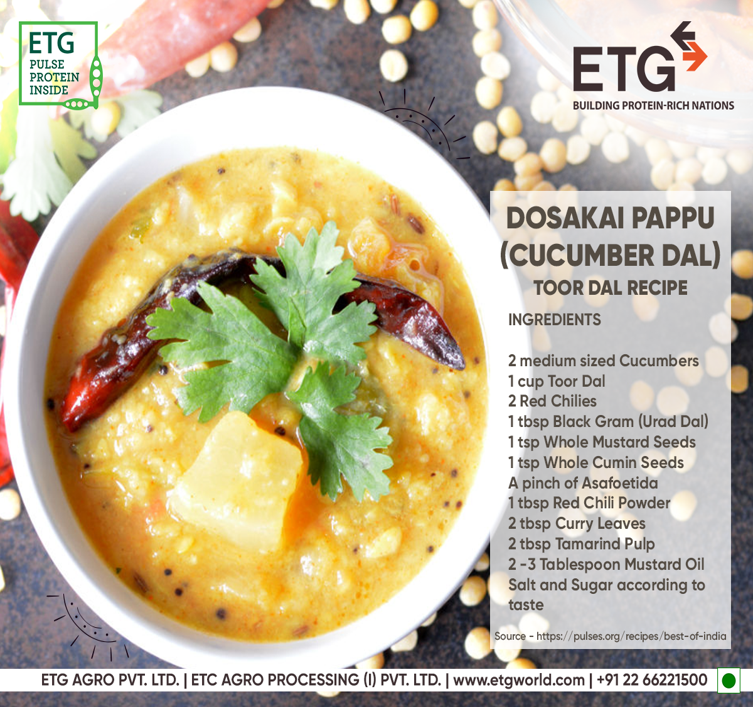 Cooking Method
Peel cucumber and cut in medium sized pieces & keep aside.
Wash & boil the toor dal until it gets soft.
Heat the oil in a pan, sauté the red chili, black gram, mustard seeds, cumin seeds and asfoetida.
Add cucumber, tamarind pulp and half cup of water, cook it on low flame.
When it is done, add pre-boiled toor dal, chili powder, salt and sugar to taste and stir well.
Cook it for 5 min on medium flame with cover.
Sprinkle the curry leaves on top and cover it for some time.
Serve cucumber dal with plain rice.Source -
LEBANESE LEMON - PARSLEY CHICKPEA AND KIDNEY BESAN SALAD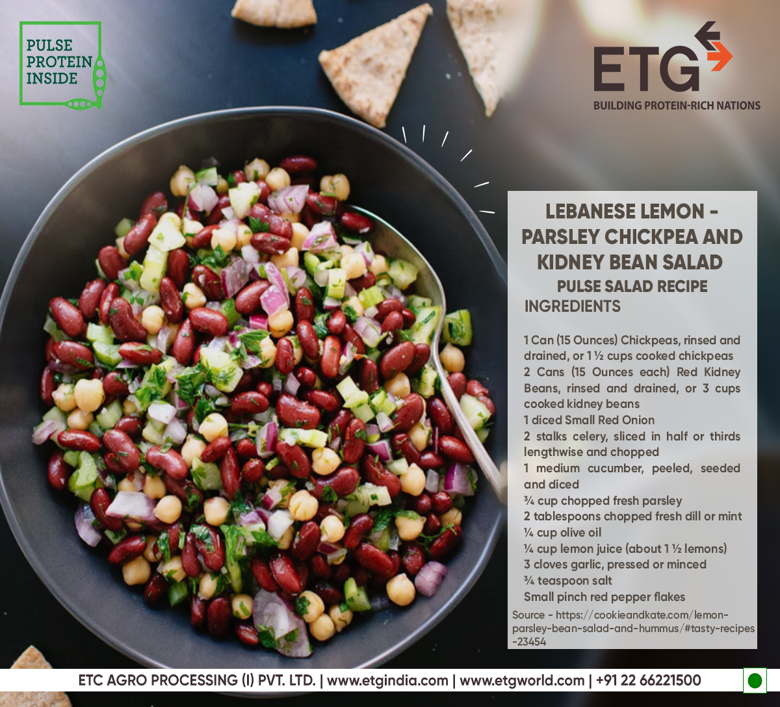 Cooking Method
In a serving bowl, combine the prepared kidney beans, chickpeas, onion, celery, cucumber, parsley and dill (or mint).
Make the lemon dressing: In a small bowl, whisk together the olive oil, lemon juice, garlic, salt and pepper flakes until emulsified.
Pour dressing over the bean and vegetable mixture and toss thoroughly.
Serve immediately for the most flavor, or let it marinate in the refrigerator, covered, for a couple of hours or longer.
GUJARATI DAL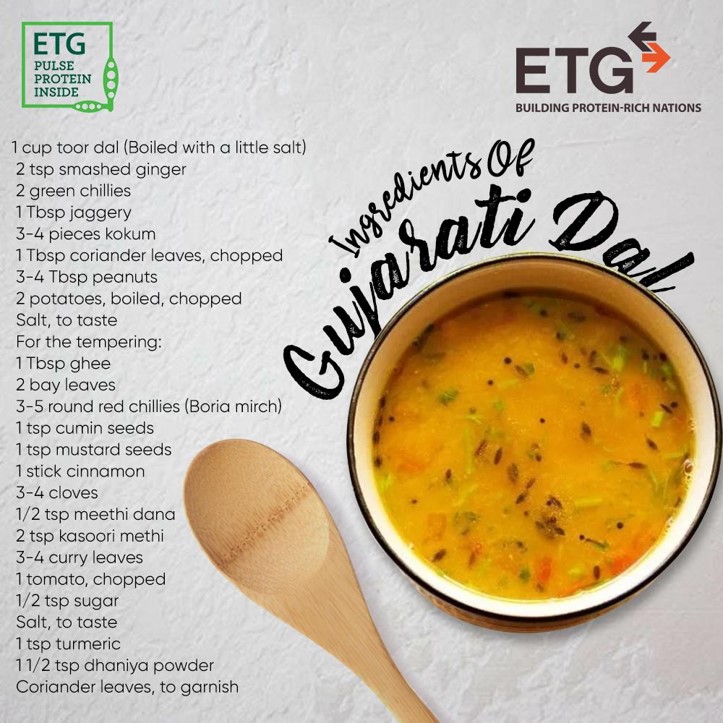 Cooking Method
In a wok add the boiled toor dal with water.
Add the ginger, green chillies, jaggery, kokum, coriander leaves, peanuts, potatoes and salt.
Cover and let it simmer till starts to thicken a little bit.
For the tempering:
In a pan add ghee, bay leaves, boria mirch, cumin seeds, mustard seeds, cinnamon, cloves, meethi dana, kasoori methi and curry leaves
Add the tomatoes, sugar, salt, turmeric and coriander powder.
Saute till tomatoes start to wilt a little bit.
Add this in the simmering dal. Cook for 2-3 minutes.
Garnish with chopped coriander leaves and serve hot.
ONE-POT SPINACH DAL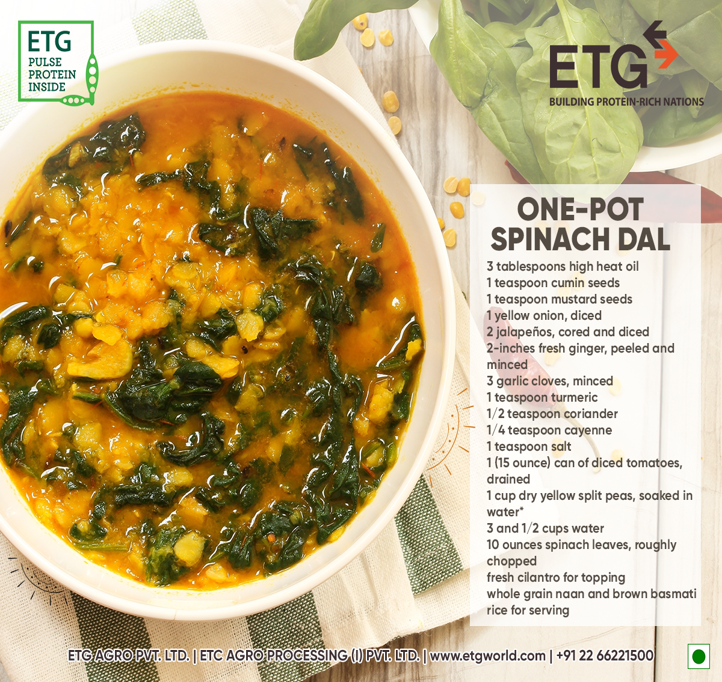 Cooking Method
In a large pot, warm the oil over medium-high heat.
Add the cumin and mustard seeds and allow to cook until they start to crackle and change color, for 10-15 seconds.Add the diced onion, jalapenos, fresh ginger, and garlic along with the turmeric, coriander, cayenne and salt then stir together.
Pour in the drained diced tomatoes and continue to cook over medium-high heat until they start to break down, for about 10 minutes.
Mash them with the back of a spoon until they are macerated.Stir in the presoaked split peas dal with 3 and 1/2 cups water then bring to a boil.
Reduce to a low boil and allow to cook until the peas are soft enough to mash, for about 30 minutes.
Use a spoon or a whisk to mash the peas.Add the spinach to the pot and cook until it starts to wilt, for about 5 minutes and serve warm.
VEGAN ZUCCHINI MEATBALLS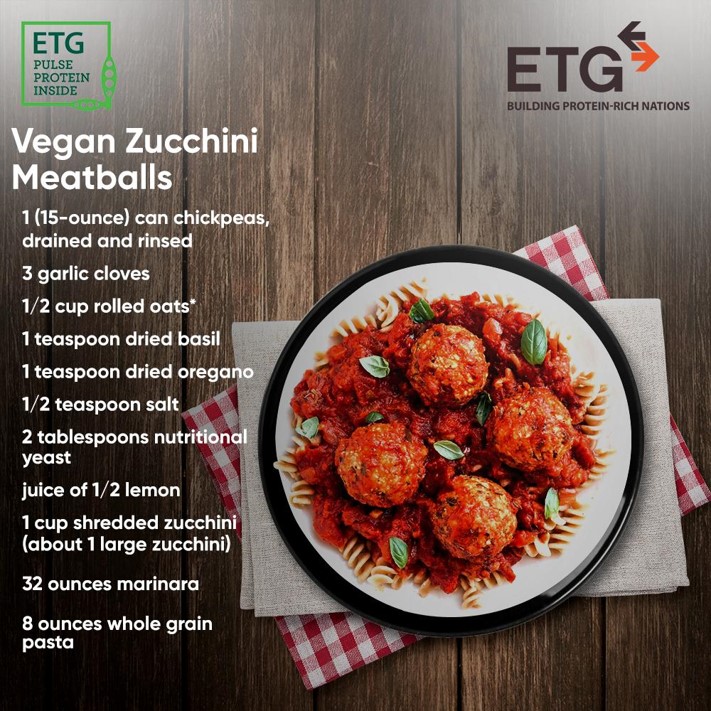 Cooking Method
In the bowl of a food processor, combine the drained and rinsed chickpeas , garlic cloves, and rolled oats.
Pulse for about 5-10 seconds, until finely chopped.
When you press the mixture between your fingers, it should hold together.
Transfer to a large bowl along with the dried herbs, salt, nutritional yeast, lemon juice and shredded zucchini.
Do not use more than 1 cup of shredded zucchini. Stir together until well-combined.
If the mixture is too wet to handle, add a little flour (you can grind extra oats into a flour) or nutritional yeast to help absorb excess moisture.Preheat the oven to 375°F then line a baking sheet with parchment paper.
Using your hands, scoop out on heaping tablespoon of the zucchini mixture at a time and roll into 12 separate balls.
Arrange on the baking sheet a few inches apart then bake in the oven for 25 minutes. Meanwhile, cook pasta as directed.Once the zucchini balls are light golden brown, remove them from the oven and set aside. Serve warm over cooked pasta with marinara sauce.
SAAG PANEER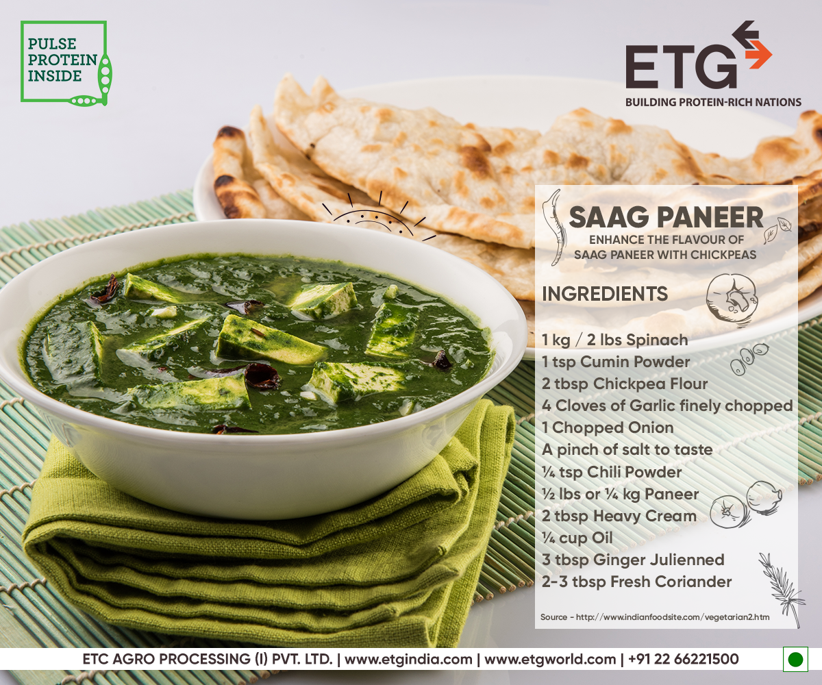 Cooking Method
Heat oil, add cumin while heating.
When oil starts to crackle, add garlic and onion, sauté until light brown, then add Besan (chickpea flour) and mix well to avoid lumps.
Cook until oil emerges, then add spinach, and sauté until pan is dry.
Add salt, chili powder and paneer, finish with cream and serve garnished with julienned ginger and fresh coriander.
TEMPTING FALAFEL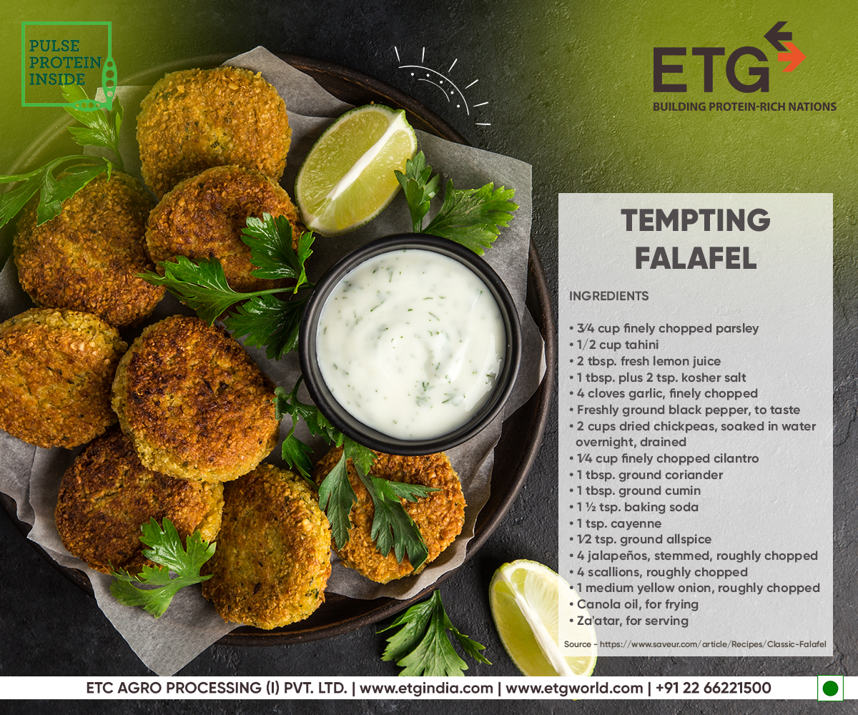 Cooking Method
Purée 1⁄4 cup parsley, tahini , lemon juice, 2 tsp. salt, half the garlic, pepper, and 1⁄2 cup cold water in a small food processor; set sauce aside.
Purée remaining parsley, salt, and garlic, chickpeas, cilantro, coriander, cumin, baking soda, cayenne, allspice, jalapeños, scallions, and onions until smooth.
Transfer to a bowl; freeze for 20 minutes to firm. Pour oil into a 6-qt. Dutch oven to a depth of 2"; heat over medium-high heat until a deep-fry thermometer reads 300°.
Using 2 spoons, shape chickpea mixture into twelve 4" oval balls.
Drop into oil; fry until golden brown, about 5 minutes.
Using a slotted spoon, transfer to paper towels to drain. Sprinkle with za'atar; serve with sauce.
MAJEDRA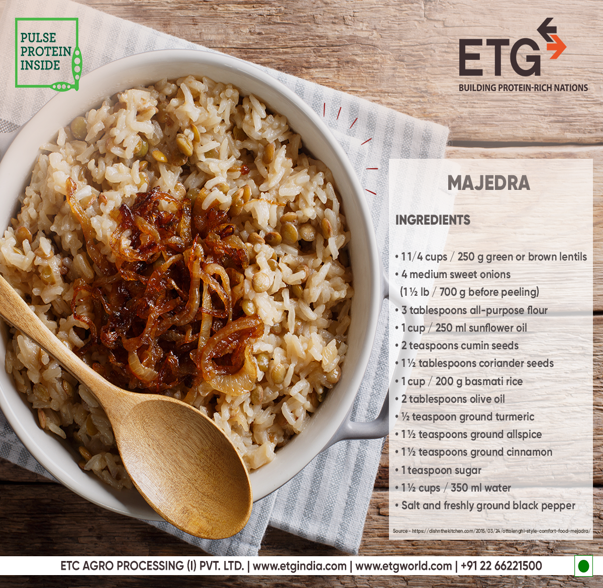 Cooking Method
Place the whole masoor dal (lentils) in a small saucepan, cover with plenty of water, bring to a boil and cook for 12 to 15 minutes, until the lentils have softened but still have a little crunch to them.
Drain and set aside. Peel the onions and slice thinly. Place on a large flat plate, sprinkle with the flour and 1 teaspoon salt, and mix well with your hands.
Heat the sunflower oil in a medium heavy-bottomed saucepan placed over high heat.
Add one-third of the sliced onion.
Fry for 5 to 7 minutes, stirring occasionally with a slotted spoon, until the onion takes on a nice golden-brown color and turns crispy.
Use the spoon to transfer the onion to a colander lined with paper towels and sprinkle a little more salt.
Repeat with the other two batches of onion; add a little extra oil if needed. Wipe the saucepan in which you fried the onion clean and put in the cumin and coriander seeds.
Place over medium heat and toast the seeds for a minute or two.
Add the rice, olive oil, turmeric, allspice, cinnamon, sugar, 1/2 teaspoon salt, and plenty of black pepper. Stir to coat the rice with the oil and then add the cooked lentils and the water.
Bring to a boil, cover with a lid, and simmer over very low heat for 15 minutes.
Remove from heat, lift off the lid and quickly cover the pan with a clean tea towel. Seal tightly with the lid and set aside for 10 minutes.
Finally, add half the fried onion to the rice and lentils and stir gently with a fork. Pile the mixture in a shallow serving bowl and top with the rest of the onion.
SPICY CHICKPEA HUMMUS
Cooking Method
Combine beans, tahini, oil, pepper flakes, cumin, coriander, garlic, salt, and lemon juice in a food processor bowl and grind into a smooth paste.
Transfer to a small dip dish and surround spread with warm pita wedges.
This recipe makes a great appetizer, or anytime snack.
FATTEH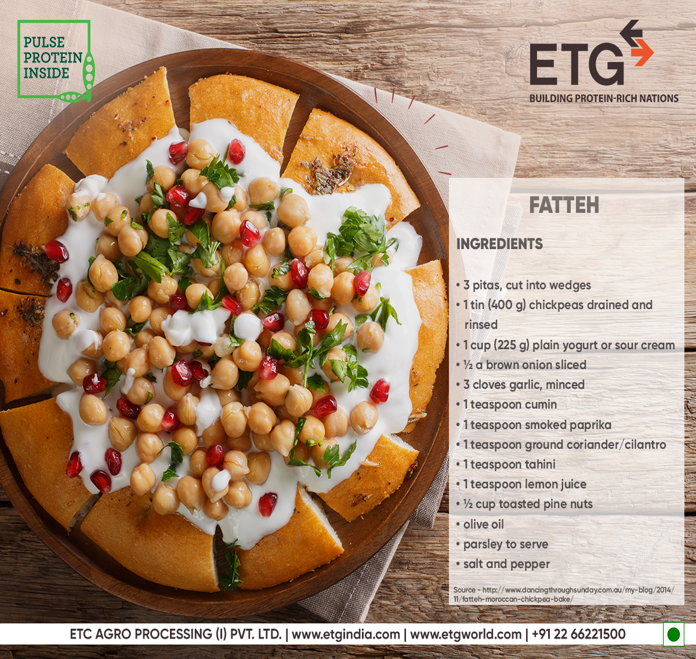 Cooking Method
Preheat the oven to 180 deg Celsius.
Put the pita wedges on a baking tray and bake for 10 minutes, until lightly browned and crispy. Remove from the oven and set aside.
Whilst pita is baking, in a small fry pan heat some olive oil and fry the onion for 3-4 minutes or until fragrant and browned. Set aside.
In a small bowl combine a drizzle of olive oil, minced garlic, the cumin, ground coriander, paprika, tahini and lemon juice. Mix thoroughly and then coat the chickpeas in the mixture.
Combine the chickpeas and onion in a casserole/oven safe dish and bake in the oven for a further 10 minutes, to heat the chickpeas through.
Remove from oven, serve on some pita chips and break some additional pita chips over the dish and then add yoghurt/sour cream.
Sprinkle with pine nuts and parsley and serve with additional pita chips! Eat while fresh and hot.
CHICKPEA SHAWARMA SANDWICH
Cooking Method
Preheat oven to 400 degrees F (204 C) and line a large baking sheet with foil or parchment paper.In a small mixing bowl toss rinsed and dried chickpeas with oil and spices and spread on the baking sheet.
Bake for 25 minutes or until slightly crispy and golden brown. Once slightly cooled, sample and adjust seasonings as desired.
While the chickpeas are roasting, prepare your sauce by adding hummus, lemon juice, dill and garlic to a mixing bowl and whisking to combine.
Add enough water or almond milk to thin the mixture so it's pourable .Taste and adjust seasonings as needed. Add more garlic for more zing, salt for savories, lemon juice for freshness, and dill for a more intense herb flavor.
To serve, warm pitas or flatbread in the microwave for 15 -30 seconds (or the still warm oven for 1 minute) and top with desired amount of chickpeas, sauce, and vegetables of choice.
ROASTED CAULIFLOWER WITH CHICKPEAS AND POMEGRANATE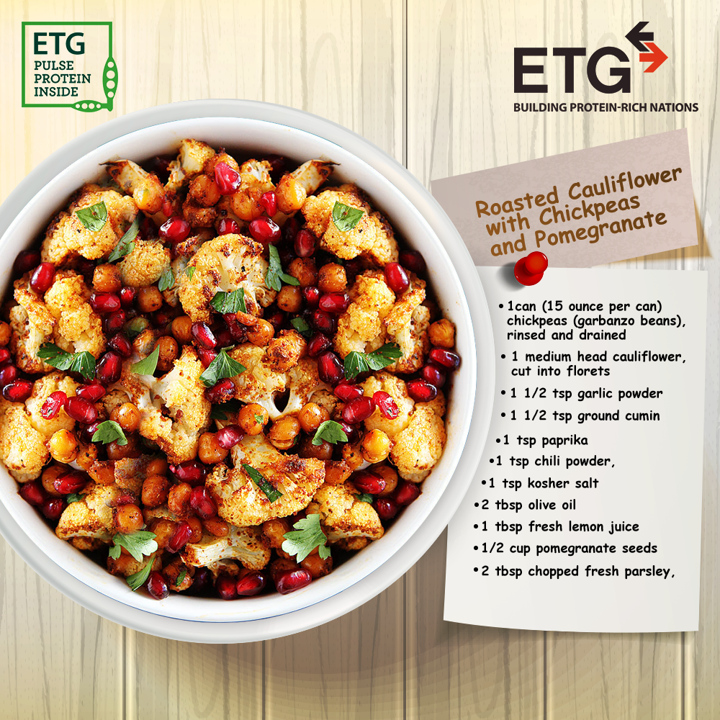 Cooking Method
Roasted Cauliflower with chickpeas and pomegranate
Preheat oven to 400 degrees F.
Place cauliflower florets and chickpeas in a large bowl. Add the garlic powder, cumin, paprika, chili powder, and salt.
Drizzle with olive oil and fresh lemon juice. Stir until the cauliflower and chickpeas are well coated.
Place on a large baking sheet and bake for 45 minute or until the cauliflower and chickpeas are slightly crisp.
Remove from the oven and add the pomegranate arils and fresh parsley and serve.
DHABA STYLE DAL FRY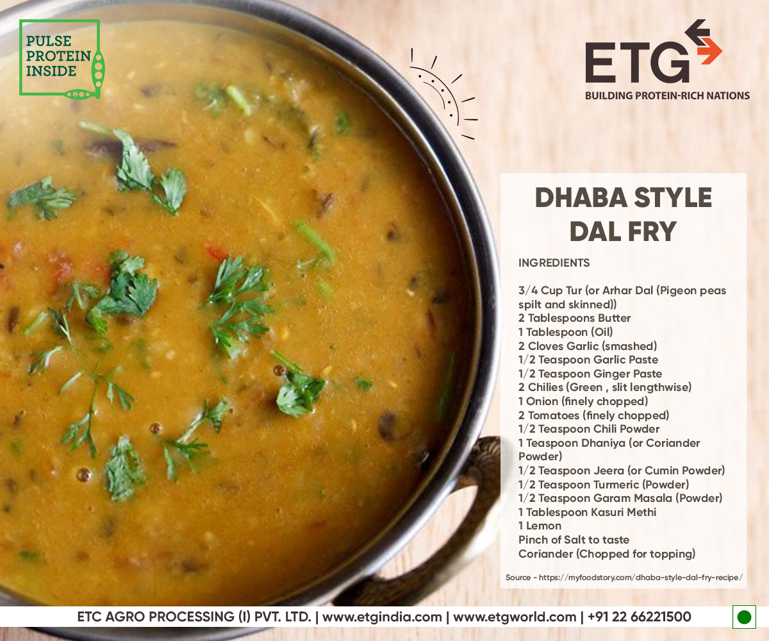 Cooking Method
Pressure cook the dal with 2 1/2 cups water till
completely cooked through and can be mashed easily
between two fingers.
Use a wire whisk or spoon to
mash the dal further so it's almost smooth.
Heat oil and butter in a pan and smashed garlic. Fry the
garlic till light brown, without burning it and add the slit
green chilies, ginger and garlic paste.
Cook for 30 seconds and add onions. Stir fry the onions
till they are translucent and add tomatoes, spices and salt.
Cook till the tomatoes completely break down and
become pasty. At this point, stir in the dal along with some water if required. Bring this to a boil and simmer for 5-7 minutes.
Dry roast the kasuri methi in another pan for a minute or
so. Grind it to a powder and mix it in the dal along with juice from the lemon. Switch off the flame and stir in chopped coriander.
Serve hot with rice, pickle, sliced onions and rotis.
SPROUTED MOONG STIR-FRY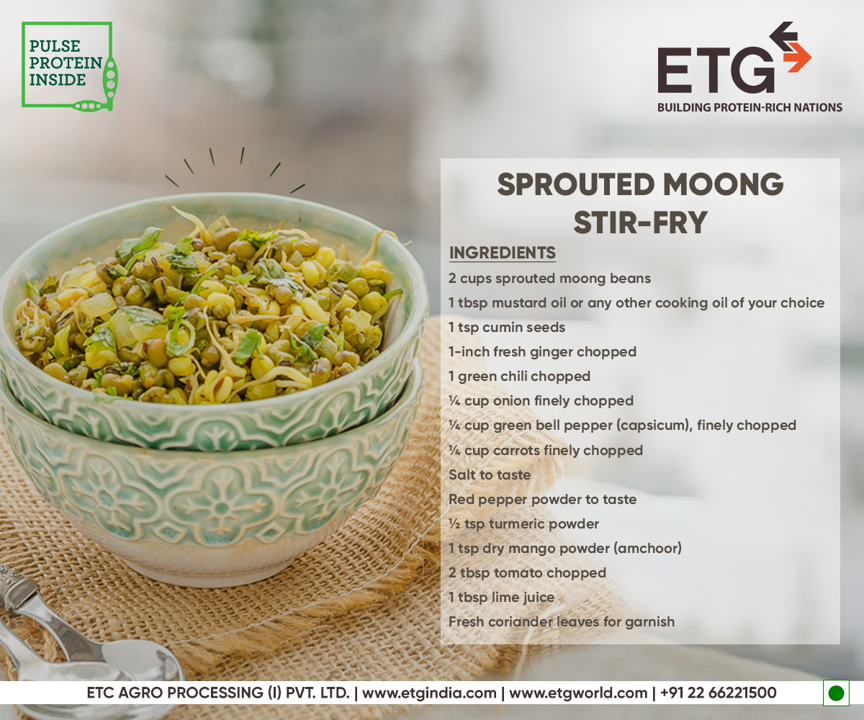 Cooking Method
Wash the sprouted moong beans and leave in a colander to drain.
Heat mustard oil in a wok.
Once the oil is hot, add cumin seeds, ginger, and green chilies. Sauté for a few seconds.
Add in chopped onion, bell pepper, and carrot. Mix well and cook for a minute.
Add the sprouts, salt, pepper, turmeric, and dry mango powder. Mix and cook for another minute.
Switch off heat. Mix in tomatoes, lime juice and chopped coriander leaves.
Adjust seasoning and serve..
BLACK URAD DAL & RAGI LADDUS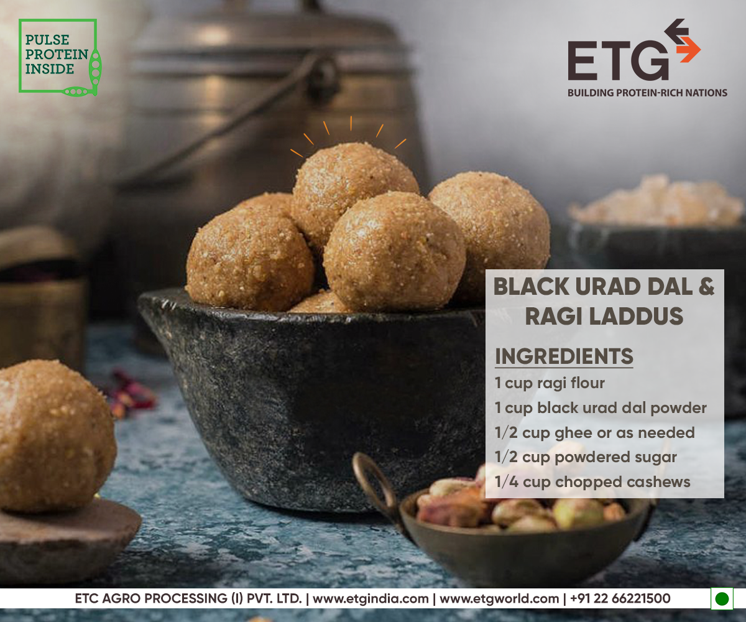 Cooking Method
Dry roast the ragi flour and urad dal powder until aromatic and you get nutty aroma.
Add ghee to the flour and mix well. Keep cooking on low flame without burning.
Keep adding ghee until the mixture is thick and separated from sides of kadai.
Remove from pan and add the powdered sugar and cashews. Mix well.
Grease palms with ghee and form laddus. Store in air right container. Holds good for 2 weeks.